Fire to the West - The Corner House Exploded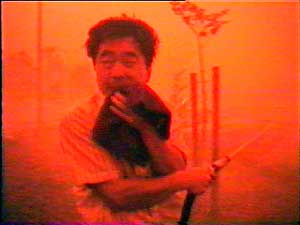 20 out of 25 houses to the West were ablaze.
LINK to Canberra Nara Photographs
On the morning of January 18 I was awakened after sleeping overnight at the Sukyo Mahikari dojo by the chuffing of helicopters heading out the seventy or so kilometres to help fight the fires which, at dawn, were dropping occasional charred and blackened leaves from a still and summer heated sky. The fires had spread and combined and travelled apparently away from our city to the North West but the fact that the smoke and black rain of charred leaves was now drifting towards Canberra was decidedly ominous. Our storm winds generally come from the NorthWest and strong winds were expected in the afternoon.
The Garden beds surrounding Dojo created a wall of fire as they burst into flames. The heat was intense as I drove through to the comparative safety of the dojo car park. The roar of the wind and fire as dojo was engulfed in the firestorm was like an ocean wave that drowned the dojo in a sea of red inferno.
The Mystery of the Miracle Building demonstrates Divine Providence in Action. People can experience the Miracle of God's saving Light in their own lives.

The Sukyo Mahikari Centre is open every day and volunteers will introduce you to the experience of the wonderful power of the Light of Creator God radiated from the Hands.

Come and Taste the Miracle.
3 Mulley St Holder
ph 02 6288 7388