PHOTO ALBUM FROM THE 1920'S

Florence Peisner 1886-1964

, my Great Aunt has preserved a photographic record c1920's of the Ryan family on holidays, hiking in the Blue Mountains west of Sydney. From my mother's account her father would return from a season of shearing the sheds around Queanbeyan, working with the O'Rourke family at The Willows behind Mount Majura, and take the family on holidays to Blackheath and Katoomba. They would spend their days hiking the canyons and trails c1920's that my mother introduced me to in our family mountain holidays c1950's. Lunch was usually a Bar-B-Q which followed an often precarious descent to the canyon floor. After a restful lunch break beside a mountain stream an equally precarious climb returned one to the safety of the canyon rim and civilisation. The log fire at home at night ended the day in flickering warmth that left an afterglow ensuring keen involvement in the next days hike. Two weeks of fun and family bonding ensured strong family ties that stood the test of time.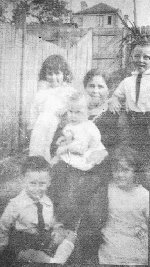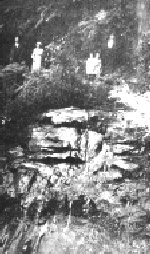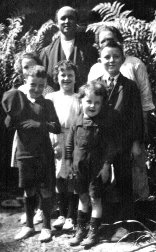 Family group at home in Woollahra and on the track in the Mountains.
---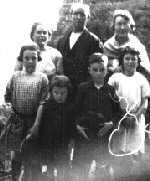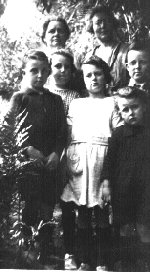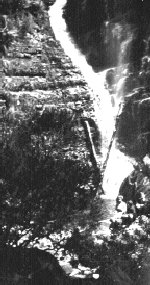 The adults are my maternal grandparents P J Ryan, Maude Peisner and Aunty Flo (spectacles).
The children (oldest to youngest) are Fred, Gweny, Maude, Patsy and Ronny.

---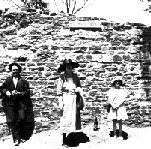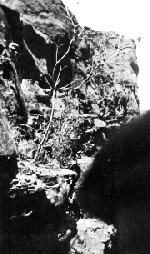 This may be a lunch break at Govett's Leap, Blackheath
---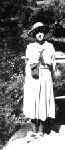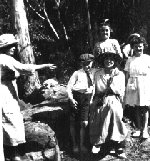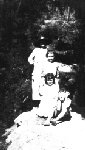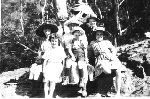 The two Peisner sisters acting out for the children and the camera.

---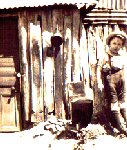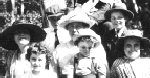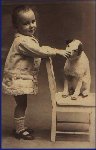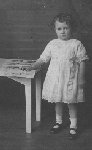 Some portraits taken over the years including Patsy c1925, Ronny c1922, Rita c1930 and I think it is Gwendolen c1932 in dress up although this may be her mother c1900. Gweny on chair c1915. The ancestral home in Grafton St and an unknown soldier in an unknown garden c WWI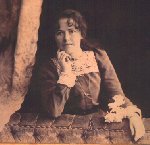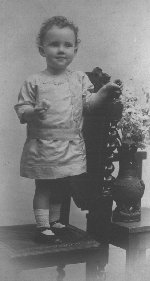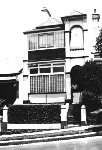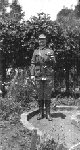 ---

Below is Great Grandfather Peisner nursing his eldest son Fred c1912 next to his second daughter Florence Grace who compiled the album c1910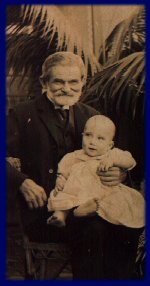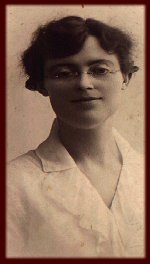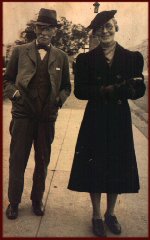 The third photograph c1935 shows Aunty Flo with Julian Ashton whose art school is still active in the rocks area of Sydney. She helped compile the script for his autobiography
---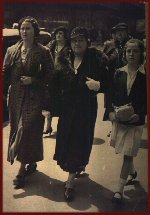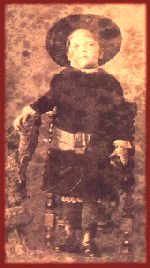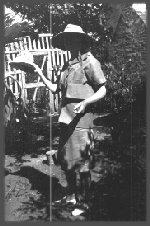 Maude, Maude and Rita, snapped by a Sydney street photographer c1935.
The bonnie child I do not know but next to him is Aunty Flo with hand woven hat.

---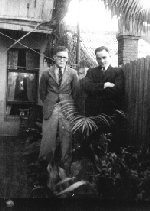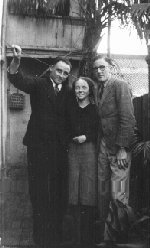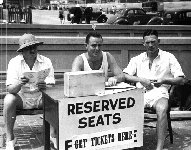 Ronny and Patsy with Rita in the backyard at Grafton St. Freddy at Bodi lifesavers
---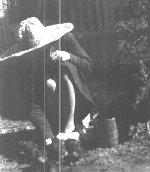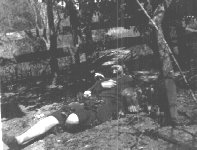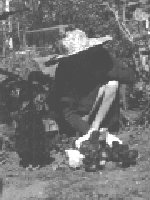 Florence Grace Peisner looking after her chickens at Port Macquarie c1950's
A wonderful legacy from a wonderful lady. My first memories of Aunty Flo were from a 1958 family holiday trip to Byron Bay and Ballina via Port Macquarie where she was carer and companion for the owner of a local natural history museum. She made hats from pandanus palms for the tourists who visited the collection of shells and mementos. I found out later of her artistic involvement with the Julian Ashton school of Art and her very deep religious sense. The bed I slept in with my brother was spiced with mint and elevated to give a full view of the surrounding bush. It was in an old horse-drawn caravan with wheels removed and located among the trees surrounding the house proper. Such a gentle, graceful soul, her calm, simple life touched me deeply.
---

Photos made available by Kathleen, wife of Patsy Ryan.
Page compiled by Terrence Quinn on Thursday January 15 1998. Updated January 24 2007.

---
|

HOME | EMAIL |
---